Inventory and product management play a vital role in every business. Peach Software deals with every aspect of inventory management, from purchasing, sales, reporting, and accounting. Inventory management systems are about controlling the logistics of goods entering, moving through, and leaving your business on a daily basis. When you streamline this process, you are reducing bottlenecks and increasing accuracy.
---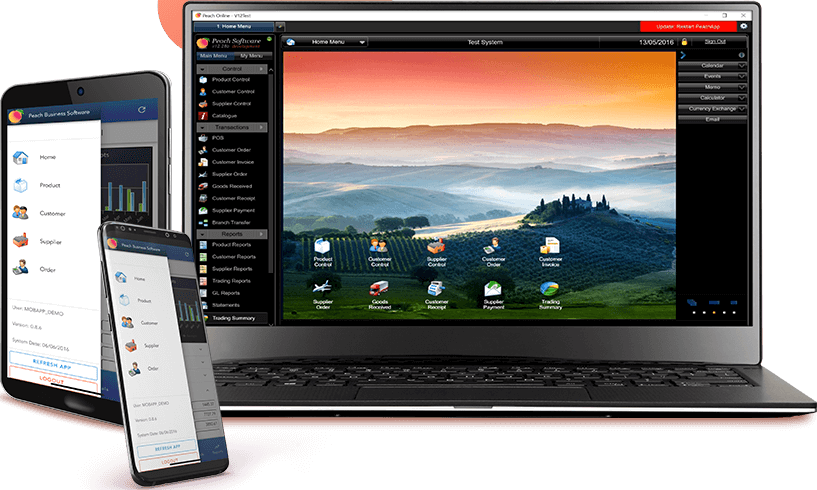 Comprehensive stock management solutions
As a dedicated inventory management system, Peach Software provides a number of powerful and customisable features. You will gain complete and instant visibility into stock movement, availability, costings, supplier and customer orders, ETA dates and delivery status. Whether you operate a small family business or a large industrial warehouse, Peach offers complete visibility and control over specific volumes, timelines, and operational processes. When you work with Peach, everything is known and nothing is left to chance.
Our inventory management system allows you to manage large product volumes without error or headaches. You can create product groups and subgroups, manage product variations, and automatically generate SKUs based on products and volumes. Visibility is set based on product data and timing thresholds, and full purchase and sales histories are available for each product line. From reviewing product availability and making stock adjustments to transferring products between locations, even if your business operates with consignment inventory management, everything is integrated across your business activities and easy to manage.
Our inventory management systems allow:
Complete stock visibility of inventory levels
Alternate suppliers and parts
History and Cycle based Reordering
Stock transfer and movement
Consignment stock
Flexible kitting features
Barcode scanning
Fully customisable reporting
---
Why choose Peach?
Peach inventory management software provides simple solutions to complex problems. Our products help you to manage purchase and sales orders, inventory on consignment, shipping labelling, customer management, and financial services, among other applications. At Peach, we deliver tailored advice, personalized support, and integrated solutions that work across locations and industry sectors. Our systems are used by Importers, wholesale and distribution businesses, retail and eCommerce companies, and manufacturing and agricultural operations, among others.
If you're looking for a complete inventory management solution, please contact the team at Peach today.